Providing high-quality,
targeted marketing communications services
to our business-to-business clientele is what
we are known for.
And the secret of our success?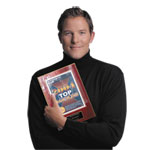 Well, it's really three things:
We commit to a full understanding of our clients' businesses and the way they go to market.

We insist that each individual within the agency stay on top of Industry Best Practices within their individual disciplines.

We hire based upon experience — both creative and strategic.
And in contrast with most agencies, we are extremely flexible — we're able to work in the manner that you prescribe, typically on either a project-by-project or full service basis. Or, somewhere in between.
So, if you're just looking for a brochure, we can help you out. If you're looking for an advertising and public relations program, you've come to the right place. Or, if you're looking for a full-service strategic plan — complete with implementation and ROI measurements — we can do that too. Primarily because we offer a full-range of services and have 20+ years of experience with most of these activities:
Strategic planning
Account management
Graphic design and identity
Public relations
Media planning and buying
E-marketing
Branding
Direct Mail
Market research

Database consulting and development
Multi-media/rich media presentations
Internal communications
Lead management programs
Catalog/e-catalog development
Trade show promotions and programs